Mogadishu (HOL) – U.S Forces have conducted an airstrike on Al-Shabaab positions in Sakow, 300km southwest of the capital according to a statement by Pentagon spokesperson Dana W. White.
The Somali President, Mohamed Abdullahi Farmajo authorized the airstrike just days after vowing revenge against the militant extremists for their deadly attack on a Puntland military base on Thursday.
"Earlier today, I authorized our special forces with the support of our international partners to conduct a strike against an al Shabaab training camp near Sakow," his statement said.
The President also reiterated his call for militants to take the amnesty offered by the government.
"To the members of Al-Shabaab, I tell you that we are bringing the fight to fight to you. Of you, however, take advantage of my amnesty offer and denounce violence, we will integrate you into our reform program.
It is not yet known what damage the airstrikes have caused, however, the strike targeted "command and supply hubs", which the President believes will reduce their ability to launch attacks.
"This was a successful strike that destroyed a key Al-Shabaab command and supply hub. This will ultimately disrupt the enemy's ability to conduct new attacks within Somalia."
View image on Twitter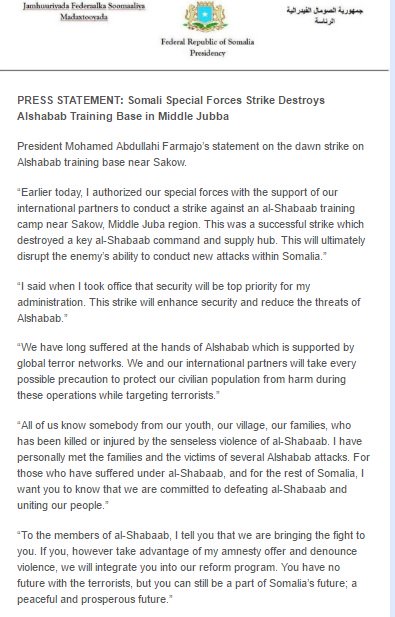 Villa Somalia

✔@TheVillaSomalia

Pres Farmaajo "I said when I took office security 'll be my top priority. This strike 'll enhance security & reduce the threats of Alshabab"

6565 Retweets

104104 likes
Twitter Ads info and privacy
U.S. Soldiers have been in Somalia since at least mid-April when the Trump administration authorized the first contingent deployed to the Horn of Africa nation since Somali militiamen shot down two U.S. Black Hawk helicopters in 1993.
In a Department of Defense release, Dana White said that U.S forces will continue to work with Somalia to dismantle Al-Shabaab.
"We remain committed to working with our Somali partners and allies to systematically dismantle al-Shabab, and help achieve stability and security throughout the region," White said.